Customer Service: 818-388-1169
Email: StkCon@Yahoo.com
Contact Us


Stop WONDERING which are the best stocks to buy until AFTER they explode for big gains and I post them on Twitter & Stocktwits-- start profiting NOW!
See why my IBD-rated "Stock Picks with Home Run Potential" & insightful market commentaries get RAVE REVIEWS.
"Your service has been the best so far compared to all the many that I have tried in the past."
--C. Yew
"Wow you're popping so many breakouts. I should feel lucky to get 1 or 2 a week!"

--G. Stebbins
"I thank you for your effort! You are a great mentor. One more
thing, I'm addicted to your reports.

I make decent money thanks to you."
--P. Karizek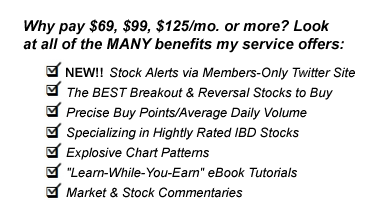 Monthly–Only $39 per Month*
Quarterly– Only $99 per Quarter*
Annually– Only $349 per Year ($29/mo.)*
*By subscribing to Stock Confidential, you confirm that you have read, understand and agree to the Terms & Conditions.